Today I'm giving you a chance to get the new Marketing for Developers course early.
I'm still in the process of uploading additional videos and adding worksheets but…
I don't want you to wait any longer. ☺️
If you order now, you get $50 off!*
Here's what Vadim Demedes said about Marketing for Devs:
★★★★★ What can I say – amazing! A specific checklist on how to market & launch your product.
The goal of the course is to help folks like you go through these stages: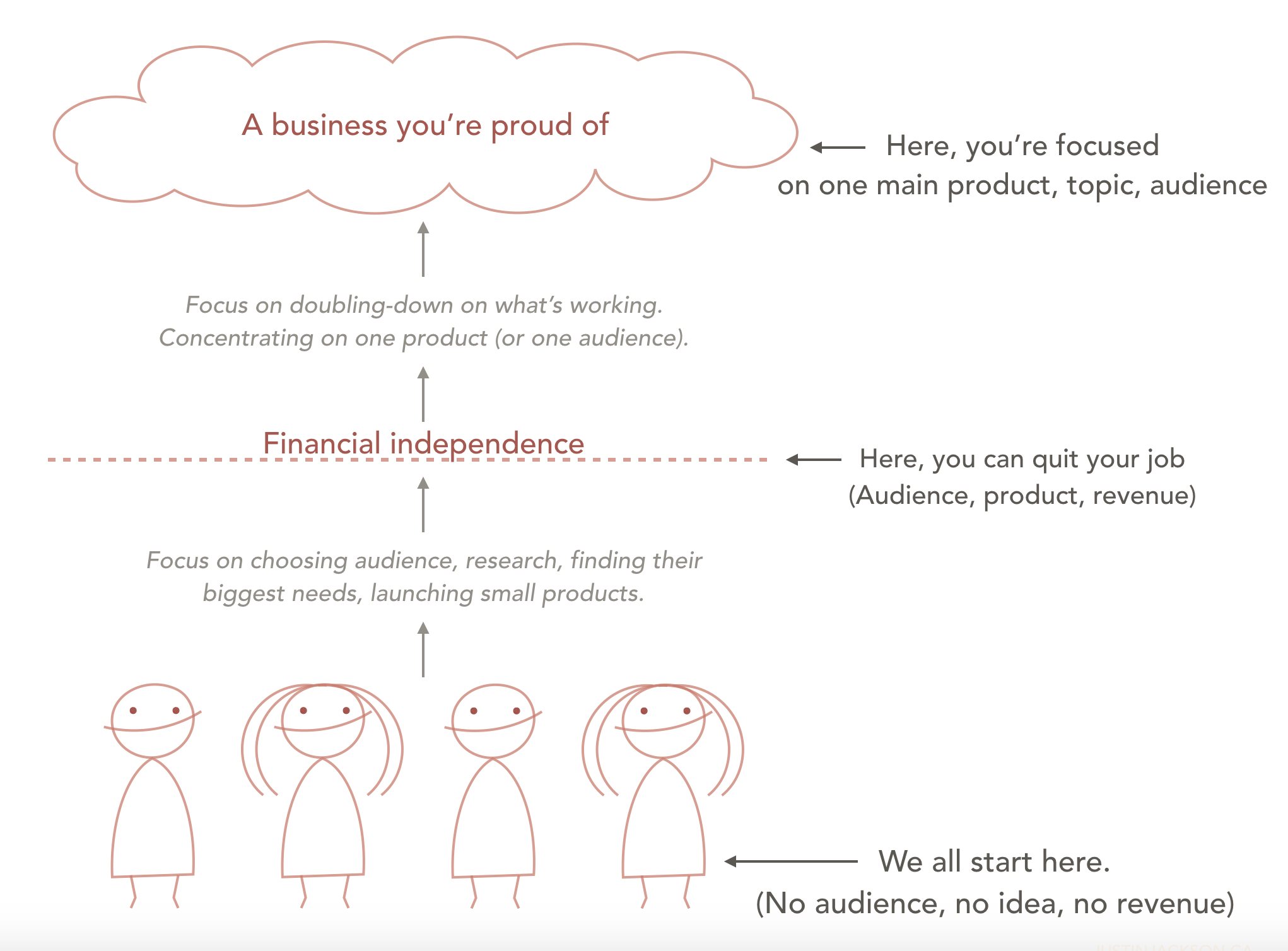 Over 2,500 people started their product journey when they read the Marketing for Devs book (it's included in the course btw!).
My goal, however, wasn't just to get people to engage with it, I want it to change their lives. I want to see you choose an audience, build a product, get traction and get your first 100 customers.
Get a sneak peek inside the course ?
When I evaluated v1 of Marketing for Devs, the folks who bought the video tutorials made the most progress. So in this new course, I'm doubling down on screencasts, video, interviews, and interactive worksheets.
Here's what you can expect:
All my recent learning.

This past year I've been doing more marketing experiments, seen more results, and learned new frameworks (like Jobs to be Done). For example, in the initial book I just talked about FB retargeting ads. In this course, I'm doing a deep dive on FB ads in general.

"Show don't tell."

In the book, I could display screenshots, but with a video, I can explain each tactic step by step.

It's interactive.

The new course has the workbooks that get you engaging with the material. You can save your answers, export them as PDF, and even share them with me.

More updates

.

It's way easier to add new material to an online course. Instead of having to re-distribute each new update, you get the new stuff automatically. The course is evergreen, and you get lifetime access.

I'm excited to share all of this with you. *This $50 discount is only good until Tuesday (10/18/2016) so don't wait too long!
Have questions? You can email me at words@nerdnorth.com
Cheers,
Justin Jackson
@mijustin
PS – I made a little preview video for the course here:
Get a free chapter!
See the table of contents and get a free PDF chapter.
Looks like you're already subscribed to the waiting list!