My most popular product ever, Marketing for Developers, has a brand new version.
It's a major update to the old book + video packages.

Here's what you can expect from the new course:
1. You'll get 23 tutorial videos
The beauty of the online course is I can easily add new tutorials. In fact, in the last few days, I've already added 5 new videos! ?
Enroll now, and you'll get new videos like these:
Use A/B tests to increase conversion
Find out what your competitors are missing
Improve your search rankings
Create Facebook ads that convert
How to price your product
Grow your email list
Your launch plan
Amplification
How to find good topics for blog posts
Targeting customer pain
Interviewing your customers
Understanding customer motivation
How to succeed in marketing
View all 23 of the videos here.
2. You'll get 14 interviews (with more coming)
One of my students' favorite features is these interviews with founders. Here is a sampling:
Josh Pigford, Baremetrics
Tracy Osborn, Hello Web App
Des Traynor, Intercom
Ryan Hoover, Product Hunt
Alan Klement, JTBD
Nathan Barry, ConvertKit
3. Interactive online workbooks
I'm using OfCourseBooks to enable you to:
Answer questions and take notes online
Share your answers with me, your instructor
Export the workbooks to PDFs (or save them online)
Have student <> teacher discussion (you can "raise your hand" and start a discussion with me)
4. You can track your progress
The worst part about the previous video tutorials is you couldn't track your progress. You had no idea what lessons you'd finished, and where you were. Now, with the new course platform, you can see exactly where you are.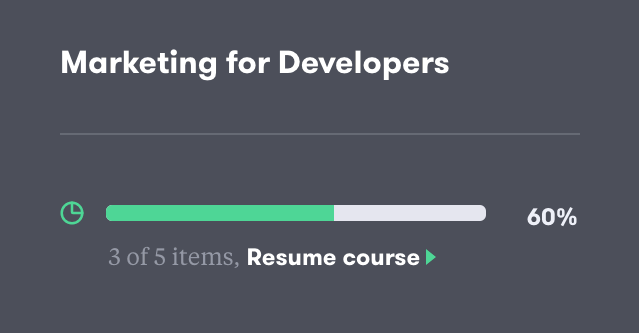 5. You get a $50 discount!
Act quick, and you get a nice discount:
You have to move fast: that coupon expires in less than 12 hours (10am Pacific, Tuesday, Oct 18, 2016).
(The course is regularly $295, and you get access for life)
If you have questions, email me here: words@nerdnorth.com
Cheers,
Justin Jackson
@mijustin
PS: when you buy now at this price, you'll get all future updates free. The next time I do a launch for this course, the price will likely be going up to $395. Buy now and lock-in at the lower price.